The internet has over 35000 websites that claim to offer online pharmacy services. Out of all these stores, 90% of them are rogue. MyCanadianPharmacy is one of these rogue stores. According to their website, this store was established in the year 2001. The store claims that they provide outstanding service and value to all their customers, they also claim that they enhance the shopping experience and make sure that the medications are as cheap as possible in order to ensure that their customers can afford them.
The store offers a variety of medication. These include Men's health meds, pain relief meds, antibiotics, Women's health drugs, antidepressants and more. They claim that the methods they allow their customers to use for payment include MasterCard, Echeck, and Bitcoin. They offer a 10% discount to people who use bitcoin to pay for their meds. Various things pointed towards the fact that Mycanadianpharmacy is a rogue store. They claim that they have been accredited by the Better Business Bureau (BBB) however when we checked BBB's official website, this drugstore did not have an approved profile. The store claims that they have already been approved by CIPA. When we checked their website at cipa.com, the website was not one of their members. They also claim that they are top-rated by PharmacyChecker.com which is also a lie. Let's check the consumer reviews.
My Canadian Pharmacy Reviews
When we searched for this pharmacy's reviews, we were able to unearth a large number of complaints regarding their unethical practices. We could not locate even a single positive review from their customers. Some of the reviews that we found are as shown below: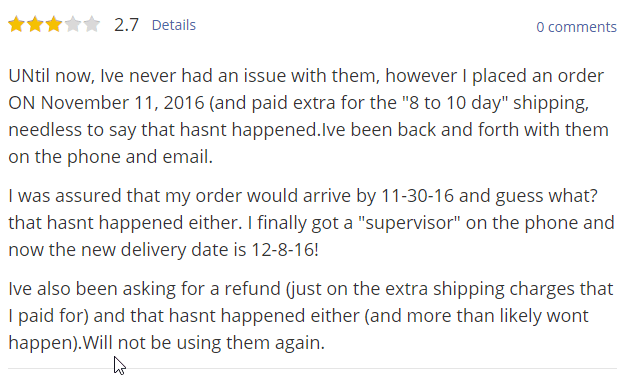 MyCanadianPharmacy Review
The above reviewer claims that he had been receiving great services from MyCanadianPharmacy. However, he recently ordered a package and paid extra money in order for him to be able to receive the package quickly. The package did not arrive. He spoke to the supervisor and he was informed that the package would arrive at a later date than the one that he had been promised after paying the extra cash. He still hasn't received the package. He has been asking for a refund of the extra money that he had paid for the shipping; however, he hasn't received this too. He says that he will not be using them.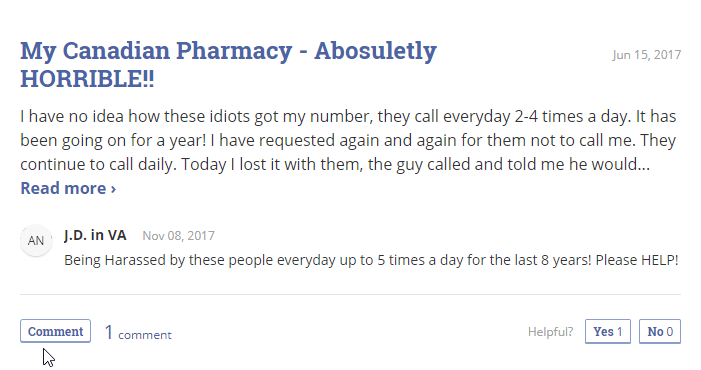 MyCanadianPharmacy Testimonial
The above reviewer says that MyCanadianPharmacy is a horrible pharmacy. He doesn't have any idea as to where the people who operate the store got his number. They call him 2 to 4 times on a daily basis. He has requested them to stop calling him but they don't stop.  A reply to the above review claims that the replier is also being harassed every day for up to 5 times for the last eight years.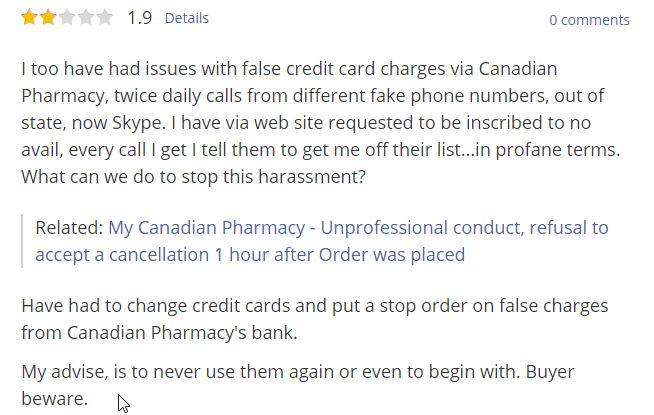 MyCanadianPharmacy User Feedback (source: https://my-canadian-pharmacy.pissedconsumer.com/complaints/RT-P.html)
The above reviewer has had issues with false charges on his credit card by MyCanadianPharmacy. The pharmacy also calls him twice on a daily basis. They have even been using Skype to call him. He has requested via their website to be removed from their list but they don't do it. He was forced to change his credit card in order to stop the false charges. He advises against using the store at all.
The above reviews can tell you that you should never trust MyCanadianPharmacy. We have legitimate drug stores which are located in Canada which offer great services. These stores are available for you in our catalog. Use them and stay safe.
Canadian Pharmacy Generic Viagra
When we checked MyCanadianPharmacy catalog, they were offering generic Viagra as one of the products that they sold. The prices for this drug were cheap. The following is the price list that they have on their website: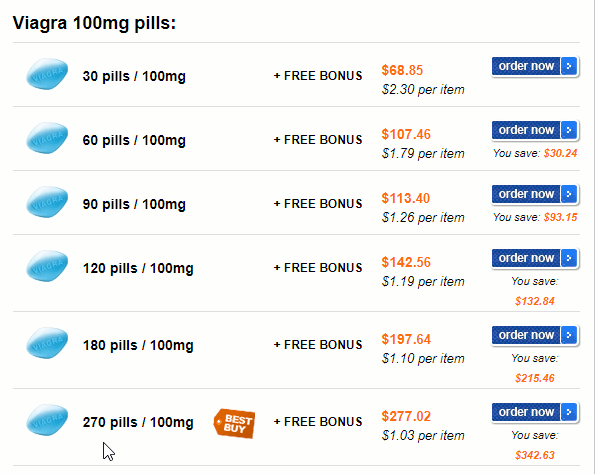 MyCanadianPharmacy Viagra Price
The highest price that they were selling this drug is $2.30 per pill when you buy a package that has 30 pills. When you buy more pills, the price will reduce. The minimum that you will pay is $1.03 when you purchase the biggest package. This allows you to save $342.63.
Although the store is offering a significant discount in comparison to other local stores which sell Viagra for 70 dollars a pill, it is not advisable for you to buy your meds from the pharmacy. This store is fake. This means that you will end up getting your money stolen and even your credit card falsely charged as we have seen in the reviews. To avoid this, avoid buying meds from the store. Instead, use the pharmacies that you will find in our catalog. The stores offer great services and they will deliver your products on time. You will receive great customer support every step of the way.
My Canadian Pharmacy Phone Number
We were able to access the contact details for MyCanadianPharmacy. They have three main different offices. These are indicated below: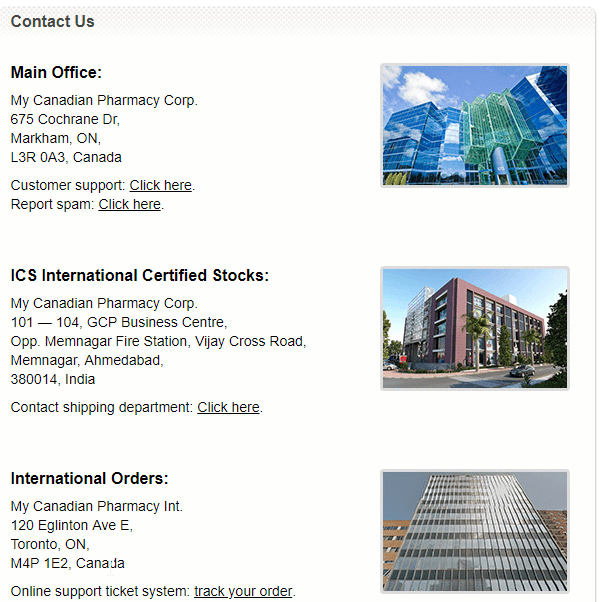 MyCanadianPharmacy Contact Details
The first mailing address is for their main office which is located in Markham Canada. The second address is for their offices which are located in the ICS International Certified stocks. This is located in Memnagar, Ahmedabad India. The last location is located in Toronto Canada. They have 2 phone numbers. The first one is +1 (347) 897-0902 while the second one is +44 0131 618 6483.
Summary
From the evidence that we have already seen, it is important that you avoid any business dealings that might involve MyCanadianPharmacy. The store will steal from you, they will spam you with numerous calls, and they will even go ahead and charge your credit card falsely. If you receive medications from MyCanadianPharmacy, they will be counterfeit meds. The best thing that you can do to keep your money safe and receive genuine medications is to order from proven stores. It is hard to find proven stores on your own. However, it is easier when you use our catalog. Every pharmacy on our catalog will place your medication needs first. Thus, your meds will be shipped immediately and the prices will be very affordable.