Technology has advanced in many leaps and strides, and now we can even buy things off of the internet whenever we feel like it. Pharmacies online have become a hugely popular business ever since people could find out that you didn't need to wait in line at your local drug store just to get your needed medications. You could simply search for it online and have them delivered to you for a price or even for free depending on the policies the store has put up. But how exactly will you know these businesses will do what they say they will?
Canadian pharmacies are patronized around the world. Especially for American citizens, they provide an alternative to the rising prices of prescription drugs in the American market. For persons from other countries, they also have the reputation of being valid and verified businesses.

Check the Bottom and You'll see Badges of Verification
It is highly important when buying online to know whether the store is legitimate. After all, the more legitimate an online site is, the less likely you are going to get scammed by it, which is sadly a very high statistic when it comes to online purchases. However, what actually constitutes a legitimate Canadian pharmacy online, and how do you know it is legal?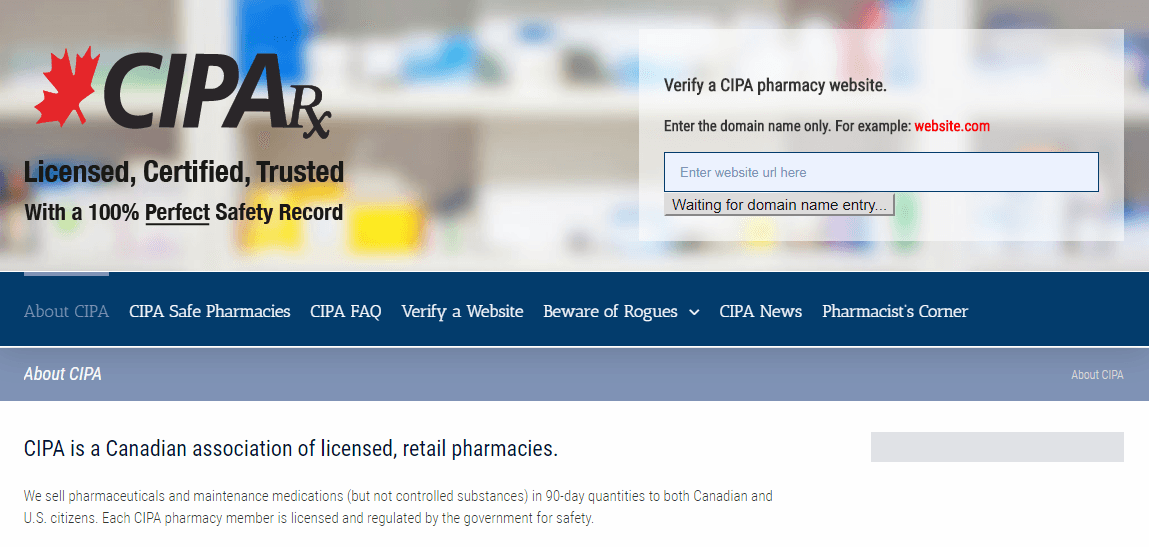 CIPA's Homepage
Legitimate websites will be approved by an independent power that verifies and licenses pharmacies, both online and offline. Associations like the CIPA check the safety of different websites and can even verify them to let other people know that they are safe to visit. In fact, they have a list of their approved sites and have given them the jurisdiction to place their seal of approval on their sites.
Legal websites are also ones that comply with the regulations of providing medications to their customers by checking their valid prescriptions before dispensing their purchases. They also make sure to have licensed pharmacists as staff members and will actually ask for their client's medical information to ensure that precautions are taken against adverse effects. If your pharmacy doesn't follow any of these credentials, then you may have to pass on it and check for ones that do by visiting the CIPA website, cipa.com.
Most Reputable Canadian Pharmacy Sites
Canadian pharmacies and Canadian drugs are always thought to be highly reliable, but that is sadly not always the case. There are plenty of sites out there considered rogues, which put up the Canadian flag in order to let customers believe that they are buying for a Canadian-approved store, when in fact the store does not have any presence in Canada nor does it even take its pills from Canadian manufacturers. Many people who are buying from stores like these may unknowingly be using products that don't have an effect or could be potentially harmful to their health.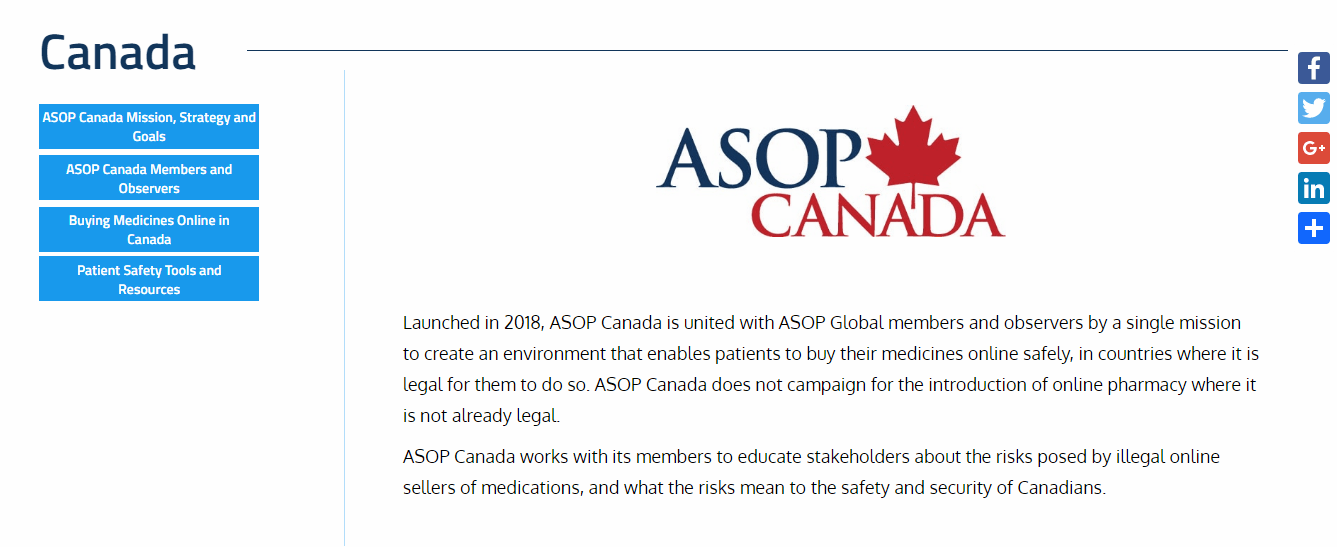 ASOP's Page for Canada
Aside from CIPA mentioned earlier, you can also visit the Alliance for Safe Online Pharmacies, known as ASOP, which provides a variety of resources and discussions on online pharmacies and can help you find them by telling you what to look out for in a legitimate store. This, and many other websites like it, are but a few of the resources that you could use to make sure that what you're looking at is a certified online pharmacy that is legally doing business with its customers.
Best Canadian Pharmacy Online
There are plenty of customers who want to find the best Canadian pharmacy overall, however doing so is easier said than done. Review websites for online pharmacies and others have listed rankings, but these are ultimately a matter of personal opinion, even if you consider the points that they give defending their choices. There is also a chance of bias happening for review sites, since they may be an affiliation between them. The best pharmacy for you will be the one that can suit your needs and tastes. It would be good to look at their suggestions and then find out whether the website is legitimate or not. Consider checking our List of Online Pharmacies recommended for safe online shopping.
Rate Canadian Pharmacy Online
Other Canadian pharmacy review sites or verification sites will not have an ordered tier of best to worst but will have individual ratings based on a set of criteria. Take for example Pharmacy Checker. They have a wealth of information available about the pharmacies they've reviewed, such the country of origin, the range of their prescription drugs, customer service routes and even the pharmacy's manager.

Pharmacy Checker Disclaimer
They also utilize a checklist for their rating of the store's validity. For example, they found out whether the information that you input as a client is secure, especially your financial data. They check if you require a prescription to get your meds and whether customers can feel at ease with the privacy of their personal information.
Summary
Online Canadian pharmacies are a popular place for persons around the world to get their medications by just ordering them and waiting for them to arrive. They provide cheaper alternatives to the usual prices of drugs found at your local pharmacy. However, even if there are thousands of Canadian pharmacies, only a number of these are the real deal. In order to find out which ones you can trust, you can look them up on a variety of different verification sites hosted by organizations with the authorization to mark them as legitimate or not, such as the ASOP, CIPA, and Pharmacy Checker. You can even check out the ratings and compare the given websites.
It may seem like a lot of work just to find a pharmacy that is legitimate, but the alternative puts so many of its customers at risk. Buying fake drugs could make your health worse, and many have experienced paying for something that they never even received in the end. What's more, buying from a fake pharmacy would continue to promote their illegal actions, which could possibly boomerang back to you. If you don't have time to search through all these websites, however, you can follow this link to our list of top recommendations for legitimate online medication stores.