VIC Pharmacy is a one-stop shop for all medical needs for all kinds of pets and other animals. It supplies various meds for treating different health conditions that are experienced by household pets such as cats and dogs. The categories for the pet medicines that it sells are only limited to 12 categories which are composed of antibiotics, vaccines, cardiac health, wound treatment, respiratory health meds, arthritis, urinary tract infections, feline herpesvirus (HPV), and others.
VIC stands for Veterinary Internet Company, an actual company that is based in the USA at Union Grove, Alabama. This online pharmacy for pet needs is approved by the National Association of Boards of Pharmacy (NABP) which guarantees its customers that it only provides only the best medicines supplied by the most reliable veterinary drug companies. Unlike other pet needs stores, VIC Pharmacy stands out because of its ".pharmacy" domain name which is a proof that it is a licensed pharmacy that provides prescription pet medicines in full compliance with the industries' best practices.
Like pharmaceutical drugs that needs prescriptions before customers are allowed to buy them, there are also pet products that can't be bought without a pet prescription provided by a veterinarian. This is to ensure the safety of the animals that will be using them since improper administration of a prescription medicine to an animal may worsen its condition. Customers will also find VIC Pharmacy to be the most complete source of all their pet needs since it offers over 17,000 different pet products and more than 300 different brands, all supplied by large companies and independent producers for all kinds of pets.
The products that VIC Pharmacy sells are not only limited to pharmaceutical products for treating various health conditions that pets and animals may experience. They also have a very large selection for animal foods and treats. And when we say animals, we mean not only household pets like canines and felines but also birds, rabbits, farm animals, fishes, and many others. Their food and treats section is divided into 5 categories and the first one are the dry foods. Dry pet foods are composed of feeds and pellets and the next section is the canned foods section which is mainly composed of dog and cat foods. The following three sections for food and treats are treats, gum, and teeth improving foods and food accessories such as pet water fountains.
Aside from pet meds and pet foods, VIC Pharmacy also sells products for coat and skin care for animals (shampoos, conditioners, etc.), pet toys and supplies (leash, collars, chew bones, etc.), pest control, aquarium maintenance, parasite treatment, and others.
VIC Pharmacy Reviews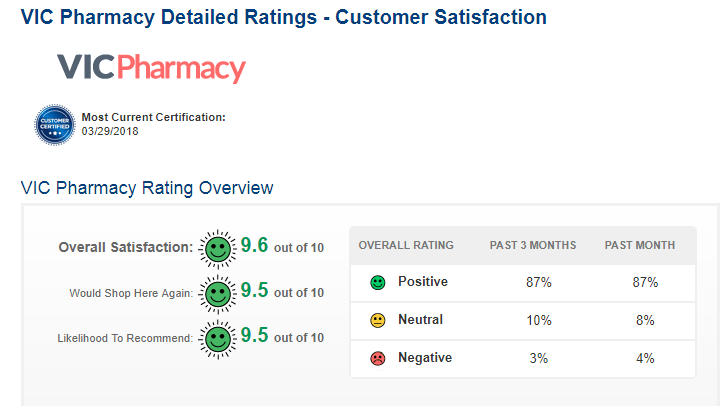 VIC Pharmacy Customer Satisfaction
"I love this company my vet does not carry the brand I wanted and when I contacted this company they carried the brand and was like $17 dollars cheaper … I am a believer this is a wonderful company and products are of great quality."
– Irene Kuscsik, online customer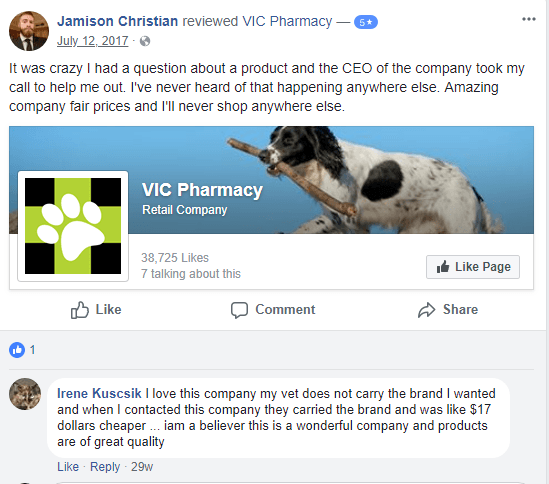 VIC Pharmacy Customer Review
Irene simply loves VIC Pharmacy because of the savings that she got. She first went to her vet to get a product brand that she needs for her pet but unfortunately, her vet doesn't have any of it remaining on hand. Because of this, Irene decided to go online, visited VIC Pharmacy and found out that the product that she needs is $17 USD cheaper than the price that her vet has. She was pleased with this discovery and from that day on, she was a believer. She continues to be a customer up to this day and attests that the products of VIC Pharmacy are of great quality.
"It was crazy I had a question about a product and the CEO of the company took my call to help me out. I've never heard of that happening anywhere else. Amazing company fair prices and I'll never shop anywhere else."
– Jamison Christian, online customer
It came as a surprise to Jamison when he called the customer service hotline of VIC Pharmacy. Due to the volume of calls that day and there's no other person to answer the phone, the CEO himself answered his call to help him out with his concern. He was delighted with this experience and pledges that he will continue to be a patron and will not shop for his pet needs anywhere else.
"Not only did Vet Internet Co. answer all my questions, I also saved money on my order. I highly recommend ordering from them."
– Daniel Lorick, online customer
Daniel was having issues with looking up the prescription information on the pet medicine that he was about to order so he decided to ask for assistance from the VIC Pharmacy support personnel. He was happy not only because of the fact that all his queries were answered but also the fact that his support helped him find the cheapest priced brand for the product that he is looking for.
Is VIC Pharmacy Legitimate?
Yes, VIC Pharmacy is a legitimate online veterinary source with license from NABP.

NABP Logo
Before its certification from the National Association of Boards of Pharmacy, its domain name is VetInternetCo.com but it was later changed to vic.pharmacy after they have been certified and licensed.  NABP is the highest pharmacy regulatory board in the US and its certification of VIC Pharmacy is just a proof of its legitimacy, unlike online vet sources that are suspicious.
VIC Pharmacy Coupon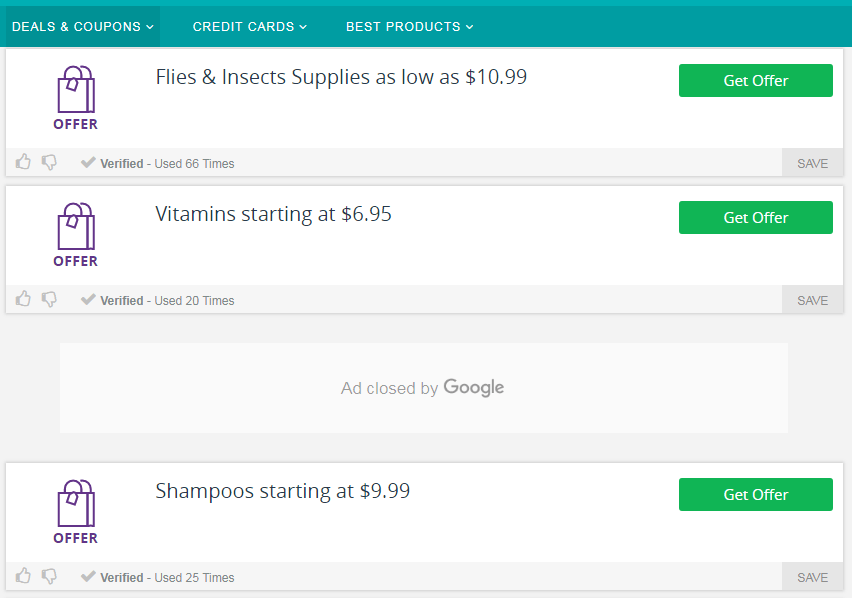 VIC Pharmacy Coupon
Affiliate sites of VIC Pharmacy offers various coupons where customers can select and they will be able to avail its various products in discounted prices. These coupons are honored by VIC Pharmacy and are great opportunities for customers to put more savings to their pockets.
Conclusion
Overall, VIC Pharmacy is the perfect online source for customers looking to purchase only the best veterinary medicines and supplies. Its products are not limited to pet meds but it also sells various healthy pet foods, supplements, and accessories for customers to make their pets happier. It's an online pet needs store that is certified by NABP with a lot of positive reviews coming from clients who were pleased with its service.