VIPPS is a program of the National Association of Boards of Pharmacy (NABP) that sanctions websites that offer pharmacy services. It has been established for 19 years now as the program was founded back in 1999 to help genuine pharmacy sites to stand out against the constantly increasing number of fake and scam pharmacies that take advantage of the unaware customers. VIPPS itself stands for Verified Internet Pharmacy Practice Sites, a program whose goal is to help customers quickly distinguish a rogue pharmacy from a legitimate one.
The onslaught of scammer-operated fake pharmacies has greatly affected the trust of many people in online pharmacies. It has even affected the businesses of the legitimate pharmacy websites because of the fear of many people from being scammed. So to avoid the risk of getting scammed, many people, especially the ones who have already been defrauded online have stopped shopping their meds through the internet. This has become a big loss for the genuine online pharmacies, their fake counterparts making them look bad.
Originally, the VIPPS program is exclusive only to the United States because it was a program that was created by NABP which is a US-based pharmaceutical regulation association. VIPPS has been a very successful program, helping customers find the right pharmacies for them to purchase their medicines from online. Many fake pharmacies have already been shut down in the US ever since but it's a constantly ongoing operation since many new fake drugstores are being created every day. But even if this is the case, customers can always identify which pharmacy is safe to purchase from or not since VIPPS-accredited pharmacy sites have a distinguishable seal that is built on their web addresses.
To re-establish the trust of people in shopping online pharmacies, VIPPS have set some standards that online pharmacies should meet in order for them to be certified as legitimately operating. They have required online pharmacies to have exclusive licenses from NABP. They have also mandated these online pharmacies to be registered with the DEA, have an actual valid location, legally compliant with all the state regulations, and many more standards that thoroughly filter the bogus pharmacies from the sincerely operating ones.
Because of this excellent system that was developed in the United States, Canadian pharmacy officials have started adopting the VIPPS program to also suppress the growing number of fake pharmacy websites that pose as Canadian online drugstores.

NAPRA
The National Association of Pharmacy Regulatory Authorities (NAPRA), NABP's Canadian counterpart, have already started investigating the practices of online drugstores to filter out the scammer-operated sites from the legitimate ones. Those who will be able to comply with all of the requirements of NAPRA will be given a VIPPS Canada seal of approval, a certification that will distinguish them from the counterfeit sites.
Recommended Online Pharmacies
There is no telling what damage and to what extent the scammer-operated pharmacies can do to innocent customers that wander into their sites by mistake. What's dangerous about these fake pharmacies is they look very similar to the real online pharmacies except that these ones have no approval seal from online pharmacy regulatory authorities like NAPRA and NABP. Aside from being able to steal money from debit cards and use the customer's credit cards and personal details in other fraudulent transactions and activities, fake online pharmacies can also send their customers fake or expired medicines that could do great damage to the health when used. These scammer sites can also infect their computers with viruses and establish a remote access that will allow hackers to access their devices.
To avoid getting terrorized by these bogus pharmacy sites, customers should only visit recommended online pharmacies. To get to them, customers should simply look for them at independent pharmacy review sites where the best and safest online pharmacies are. Customers will also have the chance to read the testimonials of other customers who had successfully ordered and received their medicines and have proven them to be effective for the health condition that they have used them for. Independent pharmacy review sites also warn customers regarding the known scam sites to avoid and they have also consolidated a list of pharmacies that have good reputations and is trusted by many.
Legitimate Canadian Pharmacies
Getting the whole list of legitimate Canadian pharmacies may not be easy because these sites are great in number but to determine which is which, customers should only look for something whenever they visit a Canadian pharmacy site. What customers should look for is the emblem of CIPA Rx which stands for Canadian International Pharmacy Association.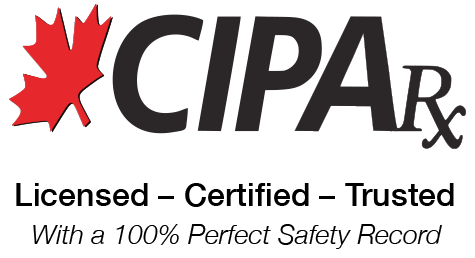 CIPA Rx
Along with CIPA, customers can also look for a MIPA emblem which is Manitoba International Pharmacists Association. These Canadian pharmacy associations are composed only of genuine pharmacy sites whose goal is to protect the customers from the growing number of scam sites. As long as the customers will be finding the CIPA Rx and MIPA seal on the Canadian pharmacies that they will be visiting, they can be assured that they are in the right place and the site that they're in is legit.
Legitimate Online Pharmacy List
So far, lists of valid and genuine online pharmacies are only made by independent pharmacy review sites to help customers find the right ones to get their meds from. An official list from NABP or NAPRA of certified online pharmacies have not yet been created but customers can check their other list out. The other list is composed of the domain names of the illegal and fraudulent scam pharmacies that have already been shut down and it is a very long list that is alphabetically arranged. These domain names number in thousands but in checking them, customers will get some clues in their names and know which online drugstores to avoid.
Conclusion
VIPPS Canada is an online pharmacy-accrediting program that was adopted by Canada's National Association of Pharmacy Regulatory Authorities (NAPRA) from America's National Association of Boards of Pharmacy (NABP). It is an effective program for helping online pharmacies stand out from scam pharmacy sites, helping customers purchase their meds risk-free. It also helps customers to distinguish the fake pharmacies from the real, fighting the onslaught of scam pharmacies in effect.