My Canadian Pharmacy – A Pharmacy That Has too Many Negative Reviews
My Canadian Pharmacy is an online med store that has been operating for 17 years now. Their website copyright section indicates that the online drugstore was established back in 2001. This online pharmacy indicates that they have always placed their customers first. They also indicate all the meds they deliver are the cheapest and that they have the best quality on the web. The medications available on this drugstore catalog includes men's health medication, antibiotics, pain relief meds, women health medication, antidepressants, mental health medication, anxiety meds, blood pressure drugs, cholesterol meds, skin care meds, meds which aid with weight loss and more. My Canadian Pharmacy accepts four payment methods. These are the VISA, Mastercard, western union and bitcoin. The pharmacy homepage has the look we have indicated below: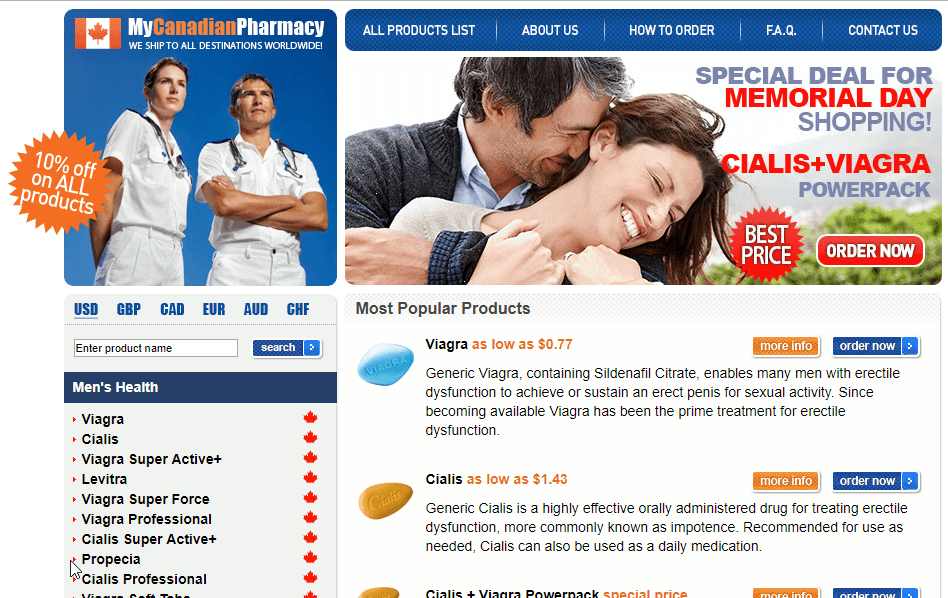 What we came to realize after doing more research on My Canadian Pharmacy is that this drugstore was lying to their customers. First, they indicated that they were CIPA members. We searched the pharmacy website on cipa.com and found that the pharmacy was not a member. My Canadian Pharmacy also indicated that they had already been endorsed by Pharmacy Checker. We found that this was a lie too. We could not find them on Pharmacy Checker's list.
My Canadian Pharmacy Reviews
We decided to dig a little bit and find out whether they had offered great services to their previous customers. We were able to find a large number of customer testimonials. The issue with these testimonials is that not even a single one of them was positive. The customers were complaining about the pharmacies spam calling them even after years had passed since they purchased their meds from the drugstore. We have some of these reviews below:
The first person claims that he has already placed an order at My Canadian Pharmacy. He says that the pharmacy has shipped his medications twice and both times he never received his orders. He says that the pharmacy only focuses on taking the buyer's money and never delivering their medication. He had to wait 45 days and he still got nothing. He states that My Canadian Pharmacy is a shady company.
The second reviewer says that he has had false charges made on his credit card. These charges were being made by My Canadian Pharmacy. This was not the only thing that has happened to him after ordering from My Canadian Pharmacy, he has also received 2 calls every day from different fake phone numbers. He has tried to get the pharmacy to unsubscribe him but they have refused to do it.

The above reviewer states that she has been receiving spam emails from My Canadian Pharmacy. These emails are harassing her since the texts are about how to become better in bed and she is a Christian woman. She says that she cannot find a customer service number for the company.
The above reviews go against every promise My Canadian Pharmacy website makes of offering great services and meds. This is a pharmacy you have to approach with caution. Our advice would be that you avoid using the drugstore and instead use the pharmacies available in our catalog since they have been proven to never spam or steal from their millions of customers who shop from them on a regular basis.
Canadian Pharmacy Cialis 20mg
The most popular medications at My Canadian Pharmacy were erectile dysfunction medications. One of these medications was Cialis. The store had different dosages. These included 200mg, 100mg, 60mg, 50mg, 40mg, 20mg, 10mg, 5mg, and even 2.5mg. The most commonly used and safe dosage is 20mg. For this reason, we will focus on this dosage. Here is the price for the pills which have 20 mg of tadalafil in them: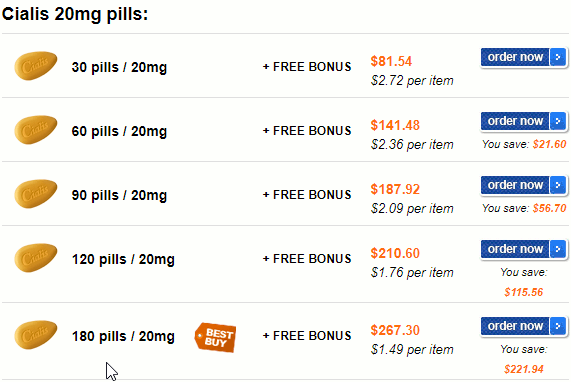 The highest price you will have to pay is $2.72 for a pill. This is when you buy 30 pills. The price will reduce as you increase the number of pills you are purchasing. People who decide to purchase 180 pills will only need to pay $1.49 per pill. This is equivalent to paying $267. This saves the buyer $221.94.
The prices for Cialis and other medications are fine at My Canadian Pharmacy. The problem is that My Canadian Pharmacy is not a pharmacy you should consider trusting. The negative reviews remove the trust factor in this Canadian pharmacy. Don't risk your health. Our catalog has the top-rated pharmacies present in Canada.
My Canadian Pharmacy Coupon Code
Everyone would like to save on their medications. Hearing that you will have the ability to apply a coupon code to your order before checkout is always a great idea for everyone. My Canadian Pharmacy knows this. They, therefore, offer their customers some coupon codes. The discount codes are as indicated below:

The above coupon code is dedicated to one of their bestsellers which is Viagra. If you are buying Viagra from My Canadian Pharmacy, you will get a chance to save 10% on your medication. The coupon code to apply at checkout is GENERICVIAGRA10.

My Canadian Pharmacy understands that not everyone will be buying Viagra on their site. This is the reason they have another coupon code for the other buyers. The coupon code is MCPRX10. Irrespective of the medication you are buying, if you use the above coupon code, you will get to save 10%.
Summary
My Canadian Pharmacy is a site that has an appealing look. It even has nice prices. These two factors may attract you. But, it is good to approach this pharmacy carefully. If you have already read through the reviews highlighted in the article, you should know the reason why we are advising you to be careful. We make it easier for our readers to avoid fake online pharmacies. We have a catalog that took us years of investigating Canadian stores to create. Every pharmacy in this catalog is 100% genuine.