Canada Drug Center is an online pharmacy that carries out transactions in medicinal purchases to online customers internationally. They run transactions on both prescription and non-prescription medicines and has an easy-to-follow online order procedure anyone can use. Canada Drug Center has been operational for 9 years now.
For quite some time now, Canada Drug Center home page is not available for viewing and as a result, their contact information (phone numbers and email addresses) are not available. However, in order to call them, you can search online for the customer care contact number that is on 24 hours 7 days for a quick response.
Drug Center Reviews
There has been an outburst regarding the services offered at Canada Drug Center from across the globe. Clients have expressed their negative encounters with the pharmacy even on social media pages like Facebook.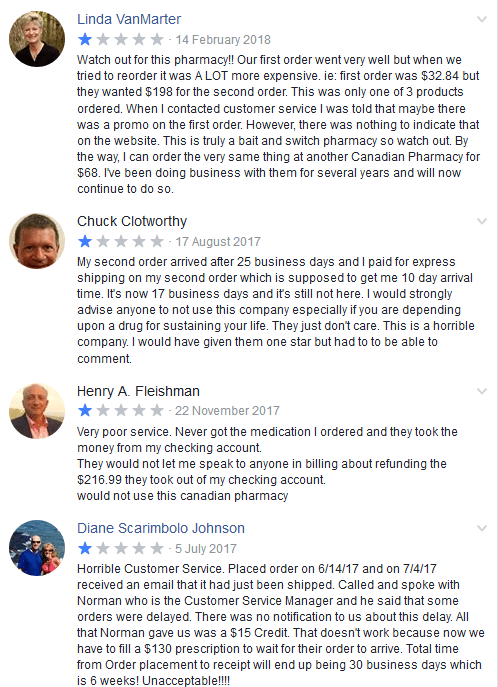 Negative Feedback on Canada Drug Center
Examining the above illustration, 'Linda VanMarter' gives you a warning and tells you to watch out for Canada Drug Center as the price for her re-order of the same drug in same quantity was a lot higher. She did pay $32.84 for the first order but a massive $198 was demanded of her on the second order. That is an upsurge of about $165.16 on only one of the three products she had purchased. She goes on to say that on another pharmacy she could get the same product way cheaply at $68. She concludes by asking you to watch out since Canada Drug Center appears to be a bait and switch pharmacy.
The second client, 'Chuck Clotworthy' is complaining of delayed service of up to 25 days and his current order is already 17 days on even after paying for express service for his medications. Timeliness matters to him and has not been met by Canada Drug Center. He feels that it is a horrible company and would strongly advise against buying from them especially if you are relying on the ordered drugs to sustain your life.
According to the third client's feedback, 'Henry A. Fleishman', Canada Drug Center has 'very poor service'. He goes on to explain that money was deducted from his account but he did not receive the medication. Amounting to $216.99, Canada Drug Center would not let him talk to anyone about the refund. He would not use Canada Drug Center.
'Diane Scarimbolo Johnson', the fourth client, says that Canada Drug Center has 'horrible' customer service based on the fact that after placing his order on 6/14/17 and 7/4/17 he received an email that it had been shipped but when it delayed, the Customer Service Manager told him that some orders were delayed and yet he did not receive the notification. He goes on to say that he will need to use another $130 but still receive the package after 6 weeks! He feels that is unacceptable.
From the above reviews, it is almost evident that the transactions being carried out by Canada Drug Center are not as authentic. This is because all the four reviews happened to be filled at totally different times of the year and by four different people. In between, there is no positive feedback or one that is a bit lukewarm in approach.
If you visited a site and found reviews like these, the next step to take would be to check it on the websites that list all the non-recommended online pharmacies just to be sure that you are purchasing from a legit site and just maybe there was indeed a bad experience with Canada Drug Center.
Best Canadian Online Pharmacy Reviews
There is always two sides of the coin and just like any other website, there exists a positive feedback on Canada Drug Center as well. In the complete turn-around, clients have come out to express their satisfaction with the services offered to them at Canada Drug Center.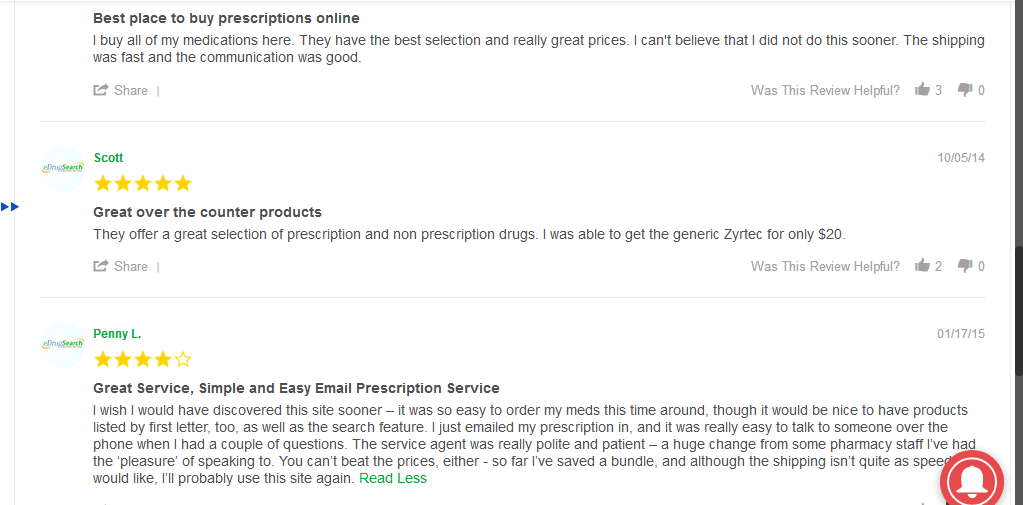 Positive Client Feedback on Canada Drug Center
Source: https://edrugsearch.com/pharmacies/canada-drug-center/
From the first client review, you will learn that that is where he buys all his medications. He goes ahead to tell you that at Canada Drug Center, there is the best selection and great prices. Better still, he says that the shipping was fast and the communication good and wishes he knew about the website sooner.
'Scott' says that, at Canada Drug Center, they have a great selection of prescription and non-prescription drugs and states that he was able to get the generic Zyrtec for only $20.
'Penny L', the third client review shows you that it was so easy for her to order her medications. She just emailed them her prescription and it was easy for her to talk to some pharmacy staff over some questions she had. The agent was polite and patient and their prices unbeatable as well. She would use the site again.
Canada Drug Pharmacy
If you have to use the website, the best way to go about it would be to run a legit check on websites that list all the non-recommended sites for surety. Such sites include Legit Script, NABP (National Association of Boards of Pharmacy), and Pharmacy Checker among others. If it passes the test, proceed with the transaction and vice versa.

                                                               NABP Legit Check Website
You will need to log into their websites and type search the websites you want to purchase from. You will get all the information matters legality of the website.
Summary
You will also need to check out how old the website is, as most scam sites are only a few weeks old.  On top of that, the website should have well-displayed contact information that is valid and operational. If you notice any suspicious website, report immediately to protect you and other users from con websites. Beware of fraudsters posing as vendors only to steal your money and run. In case of any doubts, do not hesitate to check online for our TOP List of recommended pharmacies for quality and affordable services.