Ace Pro Discounters, a blog-style retail store, is now inaccessible due to some undetermined reason. This shop started its services in 2016 and sold a variety of products ranging from clothing to car merchandise. Ace Pro Discounters seems to be unpopular on the web, as search results for the shop contain mostly irrelevant information and mostly complaints about this store's service.
Ace Pro Discounters: What is This Store?
Since the shop is now inactive, we only sourced Ace Pro Discounters information from its internet archive file. According to the data on the web archive site, Ace Pro Discounters was a retailer of apparel, anime and comics merchandise, gaming products, jewelry and watches, movie and TV memorabilia, outdoor products, and several others—besides this description of what the store does, there was no other information about its operations and other important details.
According to Ace Pro Discounters, its products were sold exclusively online. It focused mainly on vending limited-edition apparel and other products, like for instance, exclusively-labeled shirts, jerseys, or hoodies.
Some of the products sold by the store include the following:
Replica Superbowl Championship ring (Dallas Cowboys) set: $199.95
Full face cover warm winter ski mask: $19.95
Batman vs Superman "Dawn of Justice" phone case: $19.95
Classic Men's Gold Dial Skeleton Black Leather Mechanical Sport Army Wrist Watch: $29.95
Ace Pro Discounters did not disclose where it operated from and where it shipped out its products from. The shop also did not have any FAQ or step-by-step information for consumers interested in availing of its products. However, the store did have its terms of service section which included slight information regarding the store's payment preference. According to the info, Ace Pro Discounters accepted credit card payments but was not specific about which cards it accepted.
Shipping fees on Ace Pro Discounters were not discussed, but the shop stated that the items usually take 1-6 weeks of transit time. According to the store's data, it was able to allow refunds or reshipments to consumers who were unable to receive their orders within 6 weeks and to those consumers who received defective or broken items. The only contact information on the shop was a free (not a business) email address, [email protected]
Ace Pro Discounters Legit Check
To check if the store Ace Pro Discounters was legitimate, we performed several web address analyses using a few online platforms.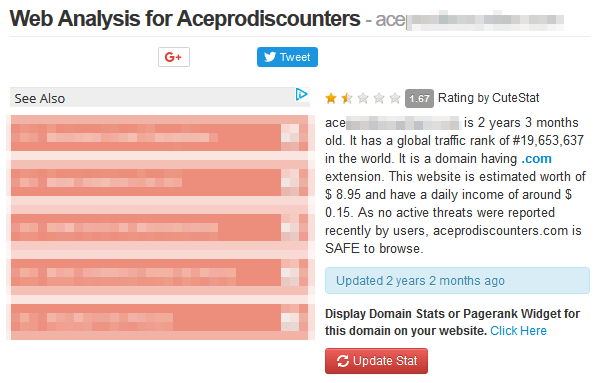 Domain Analysis Result for Ace Pro Discounters
According to one website, the overall rating deserved by Ace Pro Discounters was 1.67 out of 5 points. The site's data indicated that the store was actually 2 years old and had no existing threats to the consumers. Ironically, though, this website stated that it is safe to use Ace Pro Discounters despite the low rating. However, this is impossible advice considering Ace Pro Discounters is now inactive.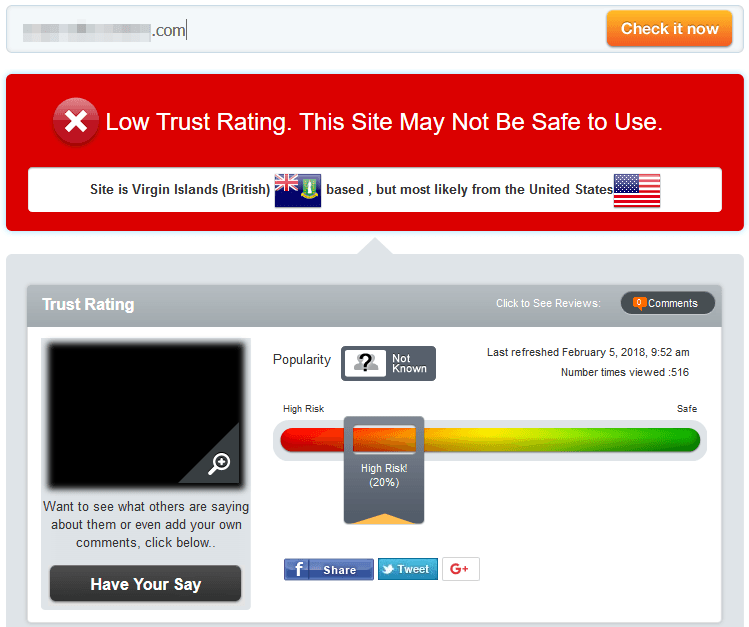 Another Domain Check Result for Ace Pro Discounters
Aside from the first website, we also used another domain checking platform to investigate the details of Ace Pro Discounters. The rating for Ace Pro Discounters was also low on this website—according to the result, Ace Pro Discounters is a high-risk website with only 20% reliability. Contrary to the report of the first web analysis platform, according to this one, Ace Pro Discounters is not safe to use.
The report placed Ace Pro Discounters' location in the United States.
Ace Pro Discounters Reviews
As much as we would like to present good testimonials for the Ace Pro Discounters store, we were unable to find good feedback from its former clients. Negative third-party reviews were written by the shop's former clients, even at reliable review websites like the BBB or the Better Business Bureau.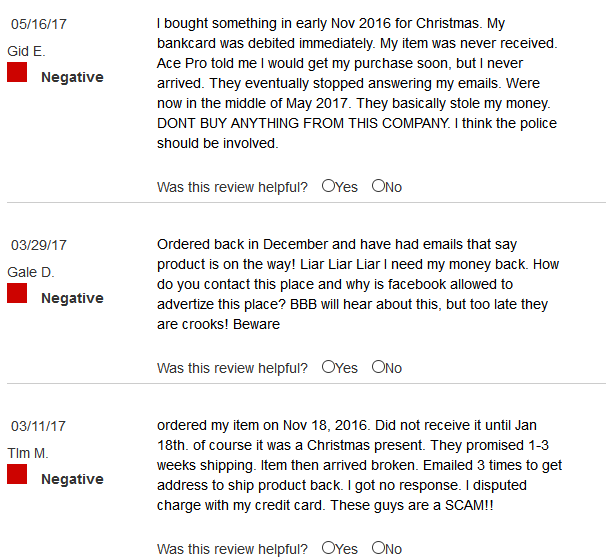 Testimonials for Ace Pro Discounters
Ace Pro Discounters is not accredited by the BBB, which indicates that the store is not reliable, to begin with. To add more insult to injury, the shop obtained plenty of negative comments from its consumers, like the ones in the image above.
According to Gid, who wrote his review on May 2017, he bought something from Ace Pro Discounters in November 2016 and paid for his order via credit card. He did not receive anything from the store, hence his warning to the other consumers about ordering from the pharmacy.
Gale also gave her negative review of the site and mentioned that she ordered her items in December 2016 and also ended up not receiving anything from the store. She was surprised that Facebook was advertising this scam site and so warned the consumers about this store's scam activities.
Tim M also gave a negative rating for Ace Pro Discounters and related how he ordered from the shop on November 2016 and was also unable to receive the products he ordered from the website. He emailed the store so the shop can re-ship his orders, but he did not receive any reply from the store. Because of this, he disputed his credit card charges and overtly declared that the store was a scam.
Testimonial for Ace Pro Discounters
The shop Ace Pro Discounters did not get even one positive review from its consumers. All the customer comments were for the store's scam activity, and the one "neutral" comment for the shop was still a complaint about its bad service. According to an unnamed client, Ace Pro Discounters debited his credit card but did not ship his order. He was convinced that the store was a scam and also warned the other consumers.
Summary
Ace Pro Discounters was a former online shop that sold various memorabilia, apparel, and other online-exclusive merchandise. Sadly, the shop is now closed and had a disgraceful exit, based on the third-party complaints aired by consumers against this store. There is no news of this shop's operators' whereabouts now, but we do hope that they have ended their scamming spree now that the website is inactive.